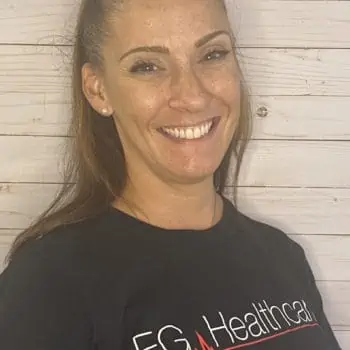 Rachel Lucente is a board certified Adult Gerontological Nurse Practitioner with over 23 years of experience in the field of nursing. Rachel sees patients in our office twice a week and also does "house calls" for our Geriatric patients. In addition, she provides educational programming for seniors at various senior centers in Staten Island.
In addition to working at EG Healthcare, Rachel is also part of the Clinical Faculty at College of Staten Island. She lectures on Health Assessment and Physical Examination and is honored to be able to pay forward the dedication of her past preceptors and help shape nursing students' careers by teaching a new generation of nurses.
Rachel recently became the Education Director of the Nurse Practitioner Association, Region 6. Her vision is in line with the vision of The Nurse Practitioner Association New York State and is committed to providing culturally competent, quality care as integral members of a diverse, collegial community; while enabled to practice at the highest level of their licensure, free of unnecessary barriers.
Rachel spends her free time giving back to the community by volunteering with a local animal rescue and has fostered over 25 dogs within the last few years. Rachel's husband John is also a nurse practitioner and together they have 2 beautiful daughters and four dogs. She enjoys gardening, exercising and spending time with her close friends.